If we were asked for a somewhat eye-catching RX Vega64 and if the range of such cards were not so limited, then the Red Devil from Powercolor would come to mind spontaneously. Because it not only applies quite strongly visually, but also ... Board layout Powercolor also differs somewhat from AMD's reference layout at first glance, but the most important areas were taken over almost 1:1 during the layout. Only for the second BIOS chip and the LED block with DIP switch... We intentionally use the standard BIOS of the card for the benchmarks, because as we will see later, the OC-BIOS buys a completely negligible performance increase due to an almost nonsensical increase in power consumption. Genere... The overall picture does not change much, even if the Vega cards break in a little more in a few games. But then it almost doesn't matter if reference or board partner card. Shared suffering is half suffering, although it is never a real d... Power consumption at different loads The power consumption in the gaming loop is at the measured approx. 283 watts in standard mode about 3 watts above what could be measured with the reference in the default BIOS. This is all the more astonishing because the... Overclocking and undervolting The conventional overclocking by means of an even higher power limit and more clock counteracts the current cooling concept, because the rather quiet cooler gets along quite well with what it has to dismount ex works. More on the other hand... Cooling system and backplate Of course, the generated waste heat is directly related to the recorded power, for which the cooling solution is responsible for optimum dissipation. If you remove the top cover of the cooler, we already see the ... With the Powercolor RX Vega64, the circle of all graphics cards we have tested so far with AMD's Vega chip closes, because there are no more really produced and traded custom designs on the market, you can see from Sapphires Pu...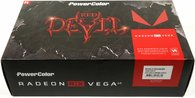 If we were asked for a somewhat eye-catching RX Vega64 and if the range of such cards were not so limited, then the Red Devil from Powercolor would come to mind spontaneously. Because it not only applies quite strongly visually, but comes on the market with a rather impressive overall appearance. If it's available.
Similar to Sapphire's heavyweight RX Vega64 Nitro+, the Powercolor RX Vega64 Red Devil is a pretty eye-catching card at first glance that likes to make thick jaws. So restraint is not their thing.
With the currently still available Vega64 cards, however, one can no longer distinguish between individual positionings within this chip class due to the really already presusb prices. You can be happy if there is one. Interestingly, availability in Europe is often better than in North America or Asia, for example. The moon prices are left out.
Unboxing, optics and haptics
Weighing 1409 grams, this map is only slightly below Sapphire's monstrous battleship. Powercolor has numbed the dimensions either, and like Asus, it offers a whopping 30.2 cm installation length (outer surface slot panel until the end of the radiator cover), making it a relatively long card. With a height of 12.7 cm (from the top of the motherboard lot to the top of the radiator cover, you are also just as high as Asus at the Strix, but the installation depth increases again with a whopping 5.2 cm and we already guess where the cooler will be placed.
The three fans with a rotor blade diameter of 9 cm each sit in an opening with a diameter of 9.2 cm. A total of 9 rotor blades per fan, with their special shape, provide above all a strong throughput and less for turbulence; produce a little more static pressure. This should be helpful to the cooling concept and the very deep cooler.
The backplate is embossed with the printed Red Devil lettering. The backplate, which is not used for cooling, is purely optical and also stabilizes the not very light card, as well as the radiator that clearly exceeds the rear.
After all, one should plan at least 5 mm for the rear body, which can already lead to problems with some motherboards if heat sinks are sitting too close to the slot or the CPU cooler is extremely large.
You can already see clearly at the bottom of the card that Powercolor also relies on vertically arranged slats and again offers a real 2.5 slot model. This creates a significantly higher cooling surface, which is also gratefully accepted.
The top also clearly shows that Powercolor has remained true to the shape and design of the Red Devil. In addition to the usual dark metal cover on the red ABS shell, there is also the red-lit Red Devil lettering in the middle. In addition, the two 8-pin power supply connectors are positioned at the end of the board, which have been rotated and also moved downwards.
The almost completely closed end of the card shows not conspicuous except for the three 6 mm and an 8 mm heatpipes.
The slot panel has four instead of the five ports of the reference card. Two HDMI 2.0 ports and two DisplayPorts 1.4 are available to the user. However, the DVI-I connection is no longer necessary, for whatever reason.
Important foreword
Unfortunately, we also need to precede a circumstance that has had some impact on our tests and the results. Although the card was marked with a manufacturer's seal, the traces of multiple use and disassembly could be clearly identified. Of course, in the end it is not a witchcraft to remove a screw with the seal by means of a suitable tool losslessly and later to use it again without traces, but as long as cards are tested in rotation, such things cannot be be excluded.
However, the amount of thermal paste used alone would have been easy enough for two or more cards and was downright counterproductive in the administered form. We used a very good paste as substituted, as used by the large radiator OEMs for machine application, but to a much more modest extent than in the pictures.
We have realigned the crooked and sometimes even destroyed thermal pads and partially replaced them with similar products. The reward of our repair was a 4-5 degree lower GPU temperature and significantly lower voltage converter temperatures in the range of two converters. We assume that in the end this represents the state, because a map would have had ex works.
Key technical data
Finally, let's take a first look at the purely technical data. The value displayed as the maximum boost clock, on the other hand, is rather a wishful thinking, which is unlikely to be achieved within the set power limit or at all.
Compared to the relevant reference cards, this looks like this:
Model
Radeon
RX Vega64
Reference

Powercolor
RX Vega64
Red Devil
Radeon
RX Vega56
Reference

Geforce
GTX 1070 Ti
Geforce
GTX 1080
Fe

Gpu
Vega 10
Vega 10
Vega 10
GP104
GP104
Chip size
484 mm2
484 mm2
484 mm2
314 mm2
314 mm2 
Transistors
12.5 billion
12.5 billion
12.5 billion
7.2 billion
7.2 billion
GPU base clock/
Boost clock

1274 MHz
1546 MHz
1274 MHz
1630 MHz
1156 MHz
1471 MHz
1607 MHz
1683 MHz
1607 MHz
1733 MHz
Shader/SIMD
4096/64
4096/64
3585/56
2432/19
2560/20
Texture Units/
Rops

256
64
256
64
224
64
152
64
160
64
Pixel fill rate

99 GPix/s
104 GPix/s
94 GPix/s
108 GPix/s
114 GPix/s
Texture Fill Rate
396 GTex/s
417 GTex/s
330 GTex/s
244 GTex/s
257 GTex/s
Memory connection
2048 Bit
2048 Bit
2048 Bit
256 bits
256 bits
Storage type
HBM2
HBM2
HBM2
GDDR5
GDDR5X
Memory bandwidth

484 GB/s
484 GB/s
410 GB/s
256 GB/s
320 GB/s
Memory clock

1.9 Gbps
1.9 Gbps
1.6 Gbps
8 Gbps
10 Gbps
Storage expansion

8 GB
8 GB
8 GB
8 GB
8 GB
DX Feature Level
12_1
12_1
12_1
12_1
12_1
PCIe sockets
2 x 8-pin
2x 8 Pin
2 x 8-pin
1x 8-pin
1x 8-pin
Tbp
295 watts
283 watts
210 watts
180 watts
180 watts 
Test system and measurement methods
The new test system and the methodology have already been described in great detail in the basic article "How We Test Graphics Cards" (English: "How We Test Graphics Cards") and therefore, for the sake of simplicity, we now only refer to this detailed Description. So if you want to read everything again, you are welcome to do so. However, we have again improved CPU and cooling to largely exclude possible CPU bottlenecks for this fast card.
If you are interested, the summary in table form quickly provides a brief overview:
Test systems and measuring rooms
Hardware:

Intel Core i7-6900K -4.3GHz
MSI X99S XPower Gaming Titanium
G.Skill TridentZ DDR4 3600
1x 1 TByte Toshiba OCZ RD400 (M.2, System SSD)
2x 960 GByte Toshiba OCZ TR150 (Storage, Images)
Be Quiet Dark Power Pro 11, 850-watt power supply
Cooling:

Alphacool Ice Block XPX
5x Be Quiet! Silent Wings 3 PWM (Closed Case Simulation)
Thermal Grizzly Kryonaut (for cooler change)
Housing:

Lian Li PC-T70 with expansion kit and modifications
Modes: Open Benchtable, Closed Case
Monitor:
Eizo EV3237-BK
Power consumption:

non-contact DC measurement on the PCIe slot (Riser-Card)
non-contact DC measurement on the external PCIe power supply
Direct voltage measurement on the respective feeders and on the power supply
2x Rohde & Schwarz HMO 3054, 500 MHz multi-channel oscillograph with memory function
4x Rohde & Schwarz HZO50, current togor adapter (1 mA to 30 A, 100 KHz, DC)
4x Rohde & Schwarz HZ355, touch divider (10:1, 500 MHz)
1x Rohde & Schwarz HMC 8012, digital multimeter with storage function
Thermography:

Optris PI640, infrared camera
PI Connect evaluation software with profiles
Acoustics:

NTI Audio M2211 (with calibration file)
Steinberg UR12 (with phantom power for the microphones)
Creative X7, Smaart v.7
own low-reflection measuring room, 3.5 x 1.8 x 2.2 m (LxTxH)
Axial measurements, perpendicular to the center of the sound source(s), measuring distance 50 cm
Noise in dBA (Slow) as RTA measurement
Frequency spectrum as a graph
Operating system
Windows 10 Pro (Creators Update, all updates)
Radeon Software Adrenaline (17.12.2, status December 2017)