Disclaimer: The following article is mostly machine translated from the original German, and the translation has not been edited or checked for errors in-depth. Thank you for understanding!
Methodology
A Ryzen 5 3600 has to be cooled at factory settings, joined by 16GB Crucial Ballistix Sport (2x8GB) DDR4 memory on an MSI B550 Tomahawk (BIOS 7C91vA9). The Asus ROG Strix GTX 1060 6GB runs in zero-fan mode for the CPU stress tests only and a Fractal Design Ion Gold 750W serves as the power source. The whole thing is housed in the Thermaltake Core P3 as an open benchtable. 
All records are captured with HWInfo64 v6.30-4240 – 2000ms logging, the specified temperature is derived from the sensor CPU Die (Average). The load of Prime95 produces an average of 88 watts of CPU package power. Since I don't have air conditioning, the values in the graphs are the delta between room temperature and CPU temperature.  This allows all cooling systems to be compared fairly, even if the ambient temperature is different.  The thermal paste included with the cooler or pre-applied is used in each case. 
I determine the sound level with a Voltcraft SL-200 meterat a distance of 40cm, which works in 125ms cycles in Lo mode. The room was measured at 33.3 dB(A), for the breakdown helps an external example table. 
Benchmarks
In the first run, the cooler is tested with one fan and increasing speed, just as you can buy it directly. 
| | | | |
| --- | --- | --- | --- |
| 1 fan | 30% PWM | 60% PWM | 100% PWM |
| Fan speed | 759 RPM | 1379 RPM | 1935 RPM |
| Sound level / characteristic | 34.1 dB(A) | 38.5 dB(A) | 47.1 dB(A) |
| Ambient temperature | 22,4 – 22,2°C | 22,2 – 22,4°C | 23,1 – 23,0°C |
Due to a small logistics error, I was sent a second fan, model F120Q, so I use the two enclosed brackets to also test the configuration with two fans:
| | | | |
| --- | --- | --- | --- |
| 2 fans | 30% PWM | 60% PWM | 100% PWM |
| Fan speed 1 | 758 RPM | 1331 RPM | 1937 RPM |
| Fan speed 2 | 572 RPM | 970 RPM | 1340 RPM |
| Sound level / characteristic | 34.1 dB(A) | 38.5 dB(A) | 47.1 dB(A) |
| Ambient temperature | 23,9 – 23,7°C | 23,4 – 23,7°C | 22,1 – 23,1°C |
And this is how NZXT's T120 fares in direct comparison to other air coolers in the same price segment: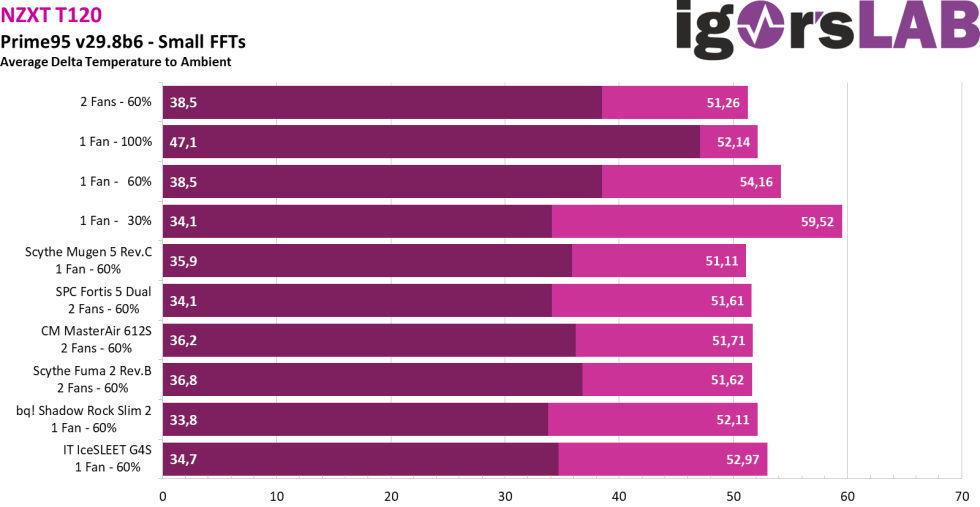 Summary and conclusion
So NZXT now also covers the air cooler market and offers a plain but well-made cooler with the T120. Depending on your taste, you can buy it in black or white, with or without lighting.  
Interestingly, all variants of the cooler cost exactly the same at the time of release, all just under €50. In this price range, you have to compete with the larger air coolers on the market. Unfortunately, they do not do this very successfully. For the called price, the NZXT T120 cannot stand out in cooling performance or volume. Surprisingly, a second fan brings a good bit more performance, which we usually don't see in these compact coolers. But the way you can currently buy the T120, i.e. with a fan and comparatively expensive, it does not perform well.
The review sample was provided by NZXT without obligation. There was and is no influence on the tests and results. There was also no compensation for expenses and no obligation to publish.